To elect 12 regional parliaments
Responsible Author: Jose A. Martin | Madrid, 05/27/2023, 18:36 Time
USPA NEWS -
Almost 35.5 million Spaniards are called to the polls this Sunday to elect the parliaments of 12 of the 17 regions into which the country is divided, and 8,000 municipalities. Elections that, despite being local and regional, are read in a national key as a preview of what may happen next November, when legislative elections are held in Spain. Andalusia, Catalonia, Madrid and Valencia will set the trend for the November elections in these elections.
Including the U.S. Sixth Fleet
Responsible Author: Jose A. Martin | Madrid, 05/23/2023, 15:29 Time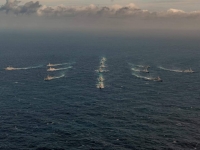 USPA NEWS -
Fourteen ships from eight NATO Allied nations, including U.S. Navy destroyers USS Porter (DDG-78) and USS Oscar Austin (DDG-79), sailed together in the North Atlantic Ocean during exercise Formidable Shield '23 from May 15, 2023. The exercise start at May 8 and it will spread to May 26. The ships also got a flyover from the French Marine nationale E-2C and Rafale aircraft.
| | |
| --- | --- |
| | RAHMA-SOPHIA RACHDI |
| | Daren Frankish |
| | Ruby BIRD |
| | Aurangzeb Akbar |
| | Yasmina BEDDOU |